WARRANTY & SERVICE

Our watches come with a transferable two-year limited international warranty, beginning with the date of purchase of your Maroux GEO series watch.

As warranty cards can be misplaced easily and are also a burden for the environment, we decided to be efficient and ensure that you receive help without any obstacles, in case you require service. Therefore, we will only require the serial number of your watch for processing, so we can access the warranty information of your watch.

To us it is important that you will enjoy your watch for a long time. In case you should cause any damage to your watch that is not covered by our warranty, we offer replacement parts and service. Please contact us at service@maroux-watches.com, so we can assist you with resolving your problem.


1) guarantee and warranty

All our watches are guaranteed for 2 years.
For warranty cases, please add the purchase receipt and a description of the problem.

Please note that our watches are equipped with precision mechanics and consist of numerous individual components. Protect your watch from bumps and impacts. In addition, warranty claims under improper use, in case of third-party intervention and broken glass can expire.

We do not grant any warranty on technical wearing parts that are subject to a normal aging process, such as the tension spring, crowns, housing tubes, bottom seals and glass seals for waterproofness (according to DIN 8310). All seals are wearing parts and can harden after just one year and lose their function.

Our watches are waterproof up to 10 ATM according to DIN 8310. The information on water resistance refers to the time of the test. The seals may lose some of their elastic properties over time, due to confounding factors (such as sun, showering, salt water, perspiration). Even impacts against the crown, or setting the time or date under water, can affect the water resistance. Therefore, the waterproofness cannot be guaranteed indefinitely.

To ensure that your watch is still water resistant, we recommend that you have your watch checked for water resistance every year. In addition, you should avoid bringing a heated watch into contact with liquids (e.g. going into the water after taking a sunbath), because the pressure ratio in the watch suddenly changes and moisture can be drawn in.

Furthermore, we offer no guarantee for typical wear and tear. These include leather wristbands, vegan wristbands, glass, case and bezel damage, as far as these resulted not out of a manufacturer error, as well as, damages caused by the customer. These include, for example shock and impact damages.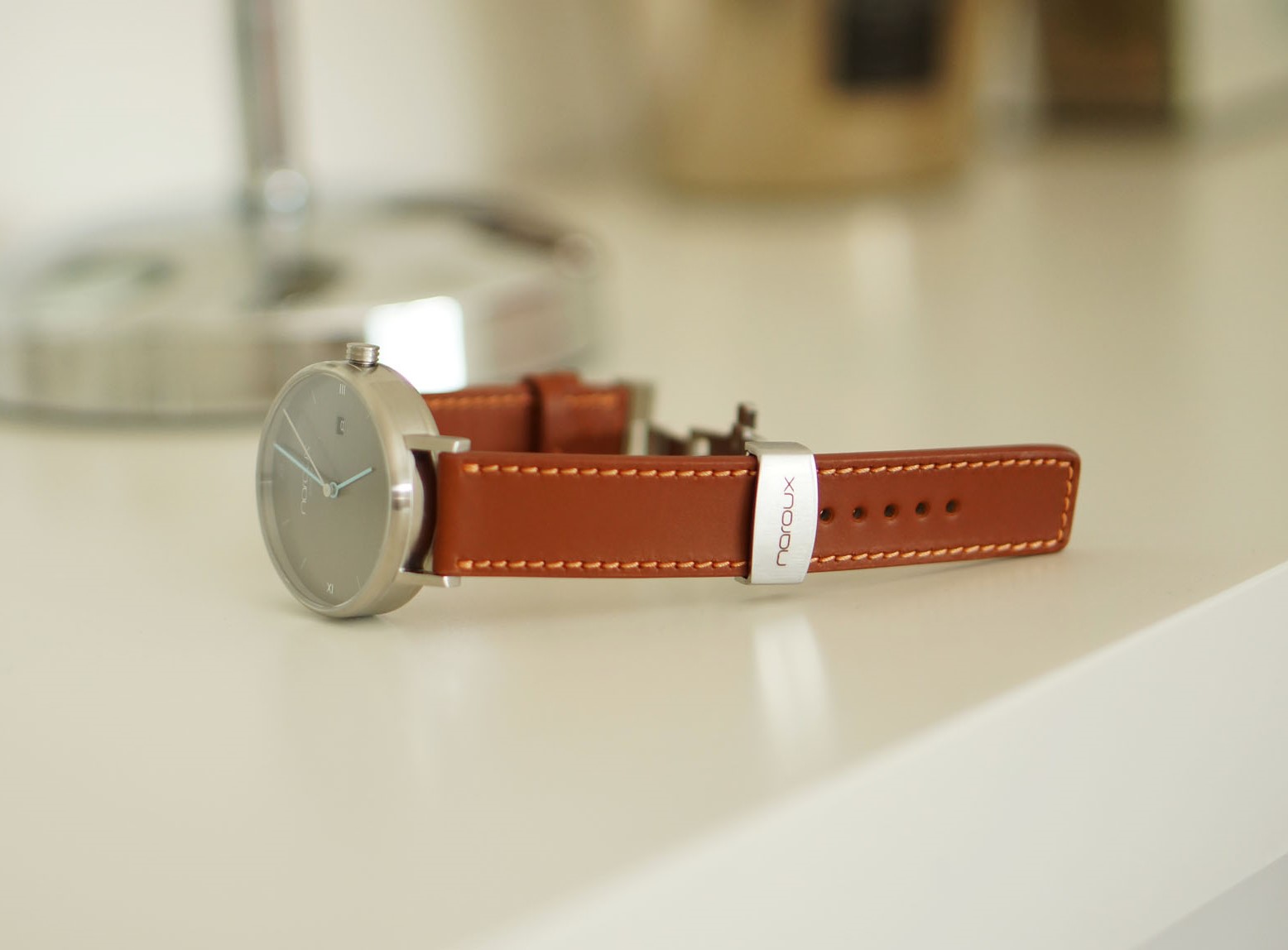 2) maintainance and cleaning information
Fingerprints and other soiling can be removed with a soft cloth.
Please keep in mind that automatic watches are sensitive to shocks and must therefore be protected from shocks and strong shocks (for example from hitting sports, shooting sports, or craftsmen activities).
Please do not wear your watch for swimming in the sea and for showering, or bathing. Salt water, detergents and UV radiation destroy the seals of the glass, floor and crown. If your watch should ever come into contact with these fluids, please rinse the watch immediately with clear water.
3) durability and maintenance of leather or vegan wristbands

As a natural product, even materials such as the high quality leather, we use for our wristbands, or our vegan wristbands will age, once exposed to environmental influences. Therefore, we recommend to remove your watch with a leather or vegan strap before showering or swimming, as this significantly reduces the life of the wristband. Regular care of the strap, however, can protect the material and extend the lifetime of your wristband. The strap can be cleaned with a damp cloth and special cleaner. It is important to let the wristband dry slowly and not expose it to any heat (e.g. hair dryer, heating).